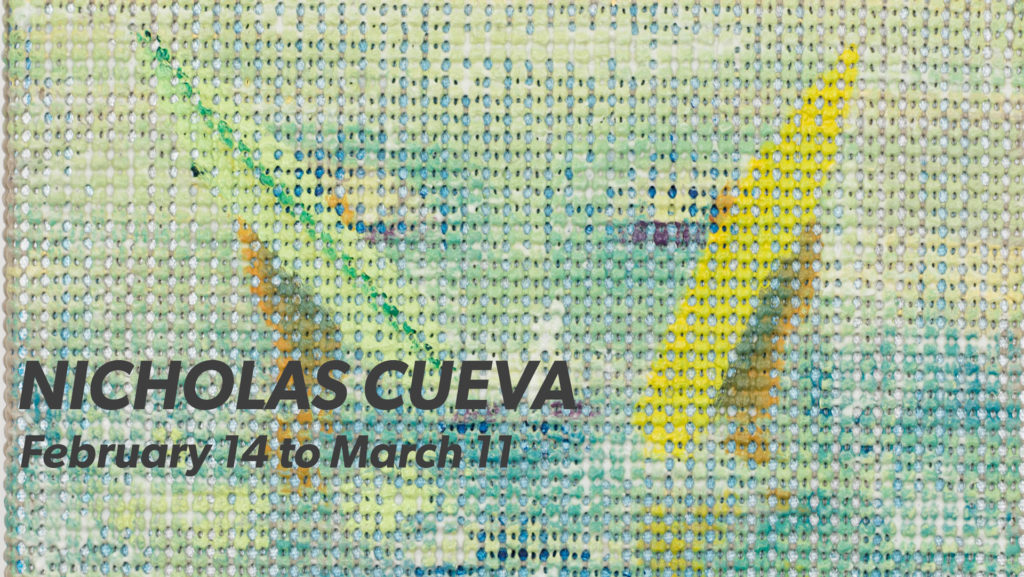 M E N gallery is proud to present a solo exhibition of new work by Nicholas Cueva presented at 13 Monroe Street, New York, NY, February 14th through March 11, 2018.
Opening Reception: Wednesday, February 14 6:00 PM to 8:00 PM
M E N
13 Monroe Street, New York NY 10002
In 2017, Nicholas Cueva began a series of paintings depicting early-morning surfers in the waters of Southern California. Each painting is a meditation on patience represented in the time spent waiting for waves. Rendered on a variety of coarse fabrics, recognizable images of human bodies and surfboards in the water pass in and out of view, subsumed by the water and mists which are created by the textures of the painted surfaces themselves.
Nicholas Cueva was born in Dana Point California in 1983. He received his MFA from SAIC in 2011, and has lived in New York since. This is his first solo show in Manhattan. His recent solo in 2017 at Five Myles was on Jerry Saltz list of "10 Achievements of 2017". His curation and involvement in the New York area art scene, most notably with the Brooklyn gallery, Underdonk, fuels a scene of incredibly talented artists from whom he draws inspiration.
The gallery is open to the public Saturday and Sunday 1:00 PM to 6:00 PM









Curveball
Catalina Schliebener
Opening Reception: Wednesday, November 15 6:00 PM to 8:00 PM
November 15 – December 15, 2017
M E N
13 Monroe Street, New York NY 10002
M E N is pleased to present Curveball, an installation by Chilean born contemporary artist Catalina Schliebener.

Curveball is the third exhibition in a trilogy of installations that reflect Schliebener's preoccupation with the early construction of gender phenomenology. The artist examines various means of insidious societal indoctrination that includes gender based color choices (pink / blue), shape, weight, and size of toys and more widespread conditioning regarding convention and social mores that children are continuously and explicitly subjected to.
The first two exhibitions, Pin The Tail (Point of Contact Gallery, Syracuse, NY, 2016), and Growing Sideways (Bureau of General Services Queer Division, The Center, New York, NY, 2016 and Hache Gallery, Buenos Aires Argentina, 2017) addressed the implicit bias of psychological testing, celebratory ritual, and early childhood activities, including games and coloring books.
For her exhibition at M E N, Schliebener, through found objects, color schemes and collage, again examines the elements that regulate and dictate gender behavior, particularly within the context of sports, including softball and baseball.
Contemporary artist Catalina Schliebener (born in Santiago, Chile, in 1980) received her bachelor of philosophy degree at the Universidad de Arte y Ciencias Sociales ARCIS in Santiago, Chile. Post-degree studies at the Universidad de Arte y Ciencias Sociales ARCIS included visual arts and art theory. From 2002-2008, she worked as an assistant professor within the areas of philosophy and art theory at several universities in Chile.
Catalina Schliebener's work has been exhibited individually and collectively in galleries, museums and art fairs in Santiago de Chile, Buenos Aires, São Paulo, Lima, Belfast, London, Miami, and New York. She has received scholarships granted by the Development of Culture and the Arts Fund of the Government of Chile (Fondart), the Board of Cultural Affairs of the Ministry of Foreign Relations of Chile (Dirac) as well as the Henry Moore Foundation of the United Kingdom. Recent exhibitions include Pin the Tail at Point of Contact Gallery, Syracuse University, NY, Queering the BibliObect at the Center for Book Arts, New York, NY and Growing Sideways at Bureau Of General Services Queer Division, The Center, New York, NY and Hache Gallery, Buenos Aires, Argentina. The artist lives and works in Brooklyn, NY.
Catalina Schliebener Curveball is on view at M E N, 13 Monroe Street, New York, NY 10002, from November 15th – December 15th 2017 weekends 12-6pm and by appointment. For further information please contact the gallery at press@13monroe.men or at +1.917.719.1447. All images are subject to copyright.
Partners
Jarrod Beck
M E N is pleased to present Partners, a solo exhibition of new works in cast aluminum, charcoal, and glass by Jarrod Beck.
Contemporary artist Jarrod Beck will create a large-scale drawing installation in the front gallery at M E N, incorporating charcoal and packing tape, underscoring the artist's interest in material impressions, memory and the human relationship to environments both natural and built. Spanning the greater length of the gallery's interior, the drawing serves to foreground the symbiotic exchange between person and place, demarking and quantifying the site, one arms length at a time. In some ways a literal record of the performative and durational qualities of this enterprise, Beck's wall drawing will hold evidence of the artists hand as well as abstract segments of his entire body, imprinted full-scale and photo-negative like against the ephemeral yet sturdy packing tape ground.
Echoing the linear qualities of both drawing and human limbs, a large cast-aluminum sculpture will also be installed within the gallery. Singular and totemic, this work alludes to the relationship between the observer and the observed, with a weighty and de-compositional read that highlights the tensions between material durability and perceived fragility. A horizon line writ large and vertical, this sculptural work suggests preoccupations with borders, archaeology, endurance and earth art.
With a background that includes training in architecture and design, Jarrod Beck brings a multivalent temperament to his art making practice, traversing arbitrary distinctions between disciplines and materials with ease. Utilizing tools as diverse as the written word, handmade paper, rubber, and performance, Beck is as much a land artist as he is a sculptor and a poet.
For Partners, the artist will additionally offer glass works from his recent Piers series, to be installed in the back room of the gallery. Evoking the pylon remnants of New York City's West Side Piers (once a locus of community exchange and sexual expression within New York's pre-AIDS era gay male population), these sculptures are comprised of glass, hand-blown into wooden molds that ultimately incinerate under the intense heat of this molten material. The wood holds and forms the glass while simultaneously disintegrating in process, rendering the final product a record of both the molds original shape and the various states of its fiery demise.
Jarrod Beck has created outdoor sculptures for Socrates Sculpture Park (Astoria, NY), Sara D. Roosevelt Park (NY, NY), Calder Plaza (Grand Rapids, MI) and the Anti-Defamation League (Omaha, NE); installations at the Lever House, Smack Mellon, Wave Hill, Abrons Art Center, South Street Seaport Museum, Bemis Center for Contemporary Art, Instituto Cervantes, Rhode Island School of Design, Stony Brook University, Universidad Central de Venezuela, Cape Cod National Seashore and the Provincetown Art Association and Museum. His drawings are in the collection of The Museum of Modern Art. He has been a Visiting Artist at UrbanGlass in Brooklyn and Sculpture Trails (Solsberry, IN) and has been an artist-in-residence at Dieu Donné Papermill, The Yard, Lower Manhattan Cultural Council, MacDowell Colony, Fine Arts Work Center, Yaddo, Sculpture Space, Robert Blackburn Printmaking Workshop, Lower East Side Printshop, Vermont Studio Center, Siena Art Institute and the Robert Rauschenberg Foundation. Beck was a 2017 finalist in the Craft/Sculpture category of the NYFA/NYSCA Fellowship and will be in residence at Rice University's Moody Center and the Watermill Center in 2018. He earned a M.Arch degree from Tulane University and a MFA from the University of Texas at Austin.
Jarrod Beck: Partners is on view at M E N, 13 Monroe Street, New York, NY 10002, from September 16th – October 15th 2017 during business hours and by appointment.
The Rib
Joianne Bittle
Opening reception: Saturday, May 20th, from 6:00 to 9:00 PM
M E N is pleased to present The Rib, a solo exhibition of works by Joianne Bittle. Including paintings made during the last four years and a new video, the installation extends Bittle's practice of using exhibitions as a medium for storytelling. Taken separately, her subjects are distinct and specific – migratory birds, a speculative robot suit, skeletal anatomy, and a mountain-fed desert spring. In Bittle's deeply researched and synthetic studio practice, however, these elements combine to form a richly imagined narrative about cosmic time, the risk of wonder, and the delicate dance of mythology and technology.
The Rib is Bittle's fourth solo exhibition in New York. She has had solo exhibitions at Churner and Churner, New York; Wave Hill, Bronx; and Eugene Binder Gallery, Marfa, Texas. Bittle has participated in several group shows in the U.S. and abroad including The Queens Museum; The Arsenal, Central Park; Radiator Arts, LIC; Root Division, San Francisco; The Observatory Room, Brooklyn; Hewitt Gallery of Art, Marymount College; The Emerald Triangle Museum, SC; Akus Gallery, Connecticut; Proto Gallery, Hoboken; Wrong Gallery, Marfa; Emily Harvey Foundation, ESBA-TALM, Angers, France, and CNEAI, Paris. She was awarded the 2016 AIRIE Residency in the Florida Everglades. Her collaborative works have been featured at the Centre Georges Pompidou, Paris (2015), K20 Dusseldorf (2016), Centre Pompidou-Metz (2017) and the Dia Foundation (2009). Her work has been reviewed in Artforum, New York magazine, Arte Fuse and National Academy of Sciences magazine, among other publications. She received a BFA from Indiana University where she was awarded a fellowship at the Scuola Internazionale di Grafica in Venice, Italy with continuing studies in Art History and the Earth Sciences. She lives and works in Long Island City, Queens.
A new printed publication from the artist accompanies the exhibition.
Denise Treizman
Opening Reception: March 29th 6:00 PM to 9:00 PM
Comprised of the shards of everyday objects that the artist both finds and creates, the works of Denise Treizman routinely straddle the disciplines of sculpture, drawing, painting, and collage. Treizman reuses and repurposes the materials within her artistic gestures, a process of recycling replete with equal measures of intention and chance.
Inspired by a desire to combine intuition with a systemic methodology, the artist has created a large sculptural tapestry, woven through with thread, fabric & found objects. This textural & patterned work will be installed in configurations uniquely responsive to the purposefully small spatial layout of the M E N storefront gallery. Exhibited publicly here for the first time, the artist invites viewers to engage with this layered, industrious work up close and in intimately personal ways. Additional two and three dimensional works by the artist will be available and on view within the gallery.
The exhibition will be on view from March 29 to April 30, 2017 at 13 Monroe Street, New York, NY 10002
Denise Treizman earned her MFA from the School of Visual Arts, New York. She has had recent solo exhibitions at Cuchifritos Gallery, New York, NY, SOHO20 Gallery, Brooklyn, NY and Wave Hill Sunroom Project Space, Bronx, NY. Her work has also been exhibited internationally in cities such as Santiago, Chile; Buenos Aires, Argentina; Shanghai, China; San Francisco, CA; and Chicago, IL. She recently presented a major public art installation for FLOW.16 at Randall's Island. Treizman has participated in the Bronx Museum of the Arts' Artist in the Marketplace (AIM) program and in artist residencies at MASS MoCA, North Adams, MA; Vermont Studio Center; Johnson, VT; Berlin Collective/APT Institute (Brooklyn, NY); Ox-Bow Residency, Saugatuck, MI; NARS Foundation, Brooklyn, NY; ACRE Residency, Steuben, WI; and Triangle Artists' Workshop, Salem, NY. Trainman lives and works in NY and is a current Member Artist in the EFA Studio Program, New York, NY.
MEN Gallery at Art on Paper
Jarrod Beck
Jon Campbell
Katherine Di Turi
Karl England
Catherine Haggarty
Sanda Iliescu
Francois Ilnseher
Teresa Moro
Sofia Quirno
Raymond Saá
Catalina Schliebener
Elizabeth Velazquez
Rob Ventura
Ian White Williams
Art on Paper New York 2017 Public Fair Hours:
Friday, March 3
11:00 AM to 7:00 PM
Saturday, March 4
11:00 AM to 7:00PM
Sunday, March 5
12:00 PM to 6:00 PM
VIP Preview:
Thursday, March 2, 2017
6:00 PM to 10:00 PM
After Noon
Sofia Quirno
Opening Reception Wednesday, January 25 6:00 PM to 9:00 PM
M E N presents its first exhibition at 13 Monroe Street, AFTER NOON, by Sofia Quirno.
AFTER NOON, unlike afternoon and very much like tomorrow, is a promise of something that is inevitable and yet never comes. It belongs to the mystical world, where what exists is that which can only be shown.   That is the world which Sofia Quirno's works inhabit.
Inspired by the idea of the gallery space in continuous flux and the grid as the ultimate starting point to establish coordinates, the artist created a new multi-media installation for the inaugural exhibition at  M E N. The space, the work and the viewers are treated by Quirno as integral parts of the image, creating a constant tension between the limits and borders of the piece. The artist invites the visitors to immerse themselves in the experience, in the space where revelations are imminent, even if never attained.
Sofia Quirno was born in 1978 in Buenos Aires, Argentina. She studied at the Instituto Universitario Nacional de Arte in Buenos Aires, in 2006 and received her MFA from Parsons (The New School of Design) in 2015. She is a recipient of the Robert Sterling Clark fellowship, and the art residencies at Bemis Center for Contemporary Arts, Vermont Studio Center and the Triangle Artists Workshop, NYC.   She lives and works in NYC.
M E N is a contemporary art gallery located in the Two Bridges neighborhood of New York City, presenting singular artistic gestures by emerging and mid-career artists in a purposefully-small storefront exhibition space. Artists selected by M E N are granted the creative freedom to produce new work without constraints, limited only by the sharp focus of the space itself. M E N seeks to support exceptional work and the artists that produce it while standing in solidarity with feminist, queer, multicultural, indigenous, and other underrepresented voices within the larger cultural conversation.
Gallery Hours
Saturday 12:00 PM to 6:00 PM
Sunday 12:00 PM to 6:00 PM

SaveSave
SaveSave
SaveSave
SaveSave
SaveSave